When singer-songwriter-keyboardist John Schmarkey and blues guitarist wunderkind Ty Barksdale lost their respective childhood bands, they teamed up to write songs as a catharsis. While sharing in loss and creativity, they discovered a profound connection that re-awoke their dedication to music. Now, their band, All The Locals, is becoming one of the most distinct modern roots rock bands gigging today due to its organically innovative, multi-genre reach and its transcendent live shows.
https://twitter.com/AllTheLocalsATL
http://allthelocalsmusic.com/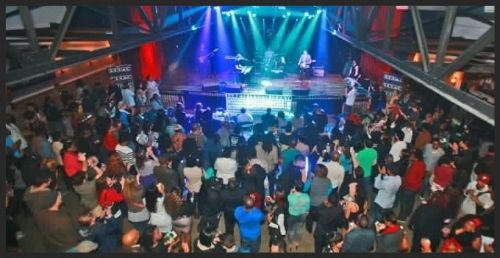 ATL combines the taut, pocket groove of hip-hop and neo-soul and the redemptive qualities of gospel and classic soul with brawny blues and roots rock. Live the band hits somewhere between a soul revue and a Bruce Springsteen show–sweat-soaked and celebratory. The band's latest EP, All The Locals II, is a watershed in its creative continuum—it showcases a band with an assured artistic identity stretching out stylistically with lush instrumentation.
All The Locals is John Schmarkey (keys and vocals), Ty Barksdale (guitars), Christian Camp (bass), and Denorris "Deno" Pennyman (drums). Schmarkey writes lyrics with earthy emotionality and brings an unassuming flavor with his keyboard prowess. Barksdale is steeped in blues and adds a lightning rod of dynamics with his fluid style. The rhythm section of Pennyman and Camp is telepathically funky, adroitly shifting feels while keeping the beat consistently bumping. These two came up in Atlanta's musically rigorous gospel scene.
It's a powerful union of musical and cultural backgrounds that's been fortified by ATL living together and cultivating deep connections as a musical family. The four-piece's moniker evokes this sense of coming together in a pure and natural way. "The name has a real communal feel," Schmarkey says. "It reflects the diversity of the music because when you travel, you always know the place best places to visit are where the locals are. So, on one level, it reflects our traveling musicality, always going to that down home place in the music." Throughout the EP Schmarkey's vocals have a honeyed grit and his writing is cleverly literate. On "Sweet Summertime" he references van Gogh's Starry Night through imagery and metaphor. At the top of the song he sings: We were rolling like the water in the sweet old summertime summertime/ We were passing out gold, you're going to wanna come, wanna find us/ And it comes and goes, another color in the moonlight/ We were rolling like the water in the sweet old summertime. "I wrote that song about youth and naiveté, and how at night you feel really alive because there are so many colors surrounding you," Schmarkey reveals.
The album was produced by John Briglevich (Shawn Mullins, James Brown, Outkast,) at Sonica Studios in Atlanta, Georgia. During the sessions, Briglevich functioned somewhere between a guru and a bandmate. "He brought so much out of us. He's the kind of guy that can pull out more talent than you thought you had," Schmarkey explains. Reflecting on the band's humble origins a year and a half ago Schmarkey says: "When we first got together we had a piece of paper and we wrote down two goals for our first year: To record a record and sell out clubs. We did both of those in the first eight months. But, really, the most meaningful thing has been having people spend their time and money to see you on a Friday night. That is what makes all the hard work pay off. That feels amazing."
-Lorne Behrman, Rock Ridge Music, NYC